The perfect Secret Santa gift is something practical and costs PHP 500
Christmas is around the corner, and four in ten (38%) Filipino employees will take part in an office Secret Santa this year, new YouGov research finds.
Secret Santa is an activity where members of a group are randomly assigned a person to whom they give a gift. The identity of the gift giver is a secret not to be revealed until after the gift is opened.
YouGov's research shows that practical presents are best with more than four in ten (44%) saying they are the ideal Secret Santa gifts. Personalised presents are in second place (26%), followed by something you can wear (18%) and something edible (7%). Women are more likely than men to give a personalised gift (32% vs. 21%). On the other hand, men are more likely than women to gift something funny (8% vs. 3%).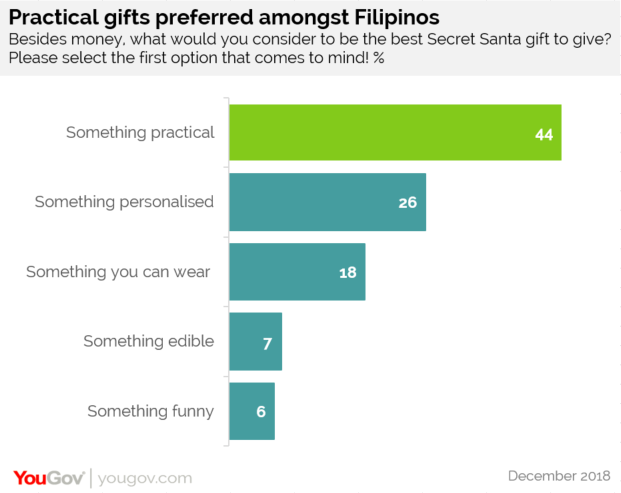 When it comes to budgeting, Filipinos are willing to spend an average of PHP 500 per Secret Santa gift. Four in ten (40%) will spend up to PHP 400 a gift, a further four in ten (39%) say they will put aside between PHP 401 to 1,200 for a present, whuile the remaining fifth (21%) are willing to spend more than PHP 1,201.
Gift-giving within the office isn't limited to just Secret Santa though. YouGov's research finds that eight of ten (82%) will also be giving gifts to colleagues outside of Secret Santa.
Secret Santa is only one facet of workplace festivities. Most (80%) Filipino employees will with a Christmas party (80%), with other popular Christmas activities including giving / receiving a Christmas bonus (66%) and putting up Christmas decorations (64%). Only a small fraction (4%) of Filipino offices will not be taking part in any festive activities.
Jake Gammon, Head of YouGov Omnibus in APAC commented: "Christmas is the biggest occasion in the Philippines and it's clear Filipinos will be revelling in celebrations not only at home but at the office. From office parties, to Christmas bonuses, to playing Secret Santa; Christmas spirit is definitely in the air."
**Results based on 6,39 Singaporeans surveyed by YouGov Omnibus.