However national pride for home-grown brands prevail.
Samsung is the most positively talked about brand amongst millennials in the Philippines, new data from YouGov BrandIndex reveals.
South Korea's largest conglomerate tops the latest YouGov rankings, which consider the brand 18 to 34 year-olds have discussed with friends in favourable terms.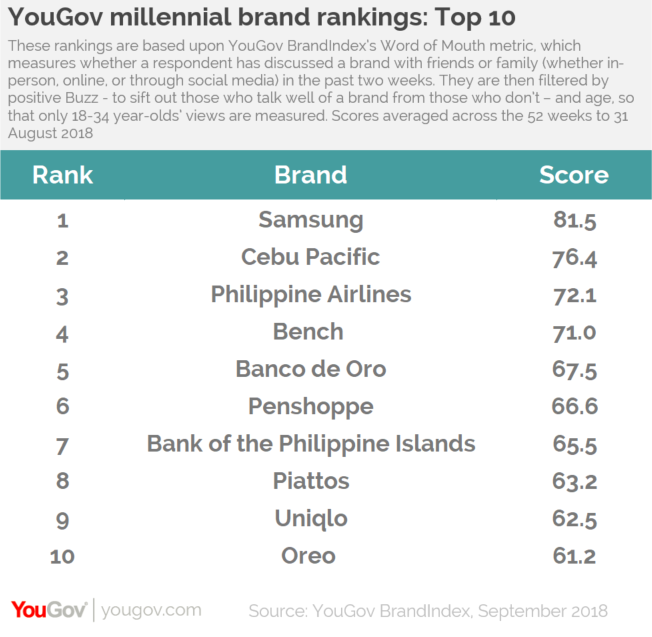 Samsung leads the top ten with a score 81.4, followed by airlines Cebu Pacific (76.4) in second place and Philippines Airlines (72.1) in third. Fashion retailers feature prominently in the top ten with Bench (71.0) in fourth, Penshoppe (66.6) in sixth and Uniqlo (62.5) in ninth.
Packaged foods also appear popular with young Filipinos with Piattos (63.2) in eighth and Oreo (61.2) in tenth. Banks BDO Unibank (Bando de Oro) (67.5) and Bank of the Philippine Islands (65.5) complete the list, coming in at fifth and seventh place respectively.
Ervin Ha, YouGov APAC's Head of Data Products said: "Though Samsung tops the list, younger Filipinos still regard local brands highly; whether it comes to airlines, fashion or packaged foods. While global brands dominate in other Asian nations, our data shows that Filipino millennials have great national pride for home-grown brands".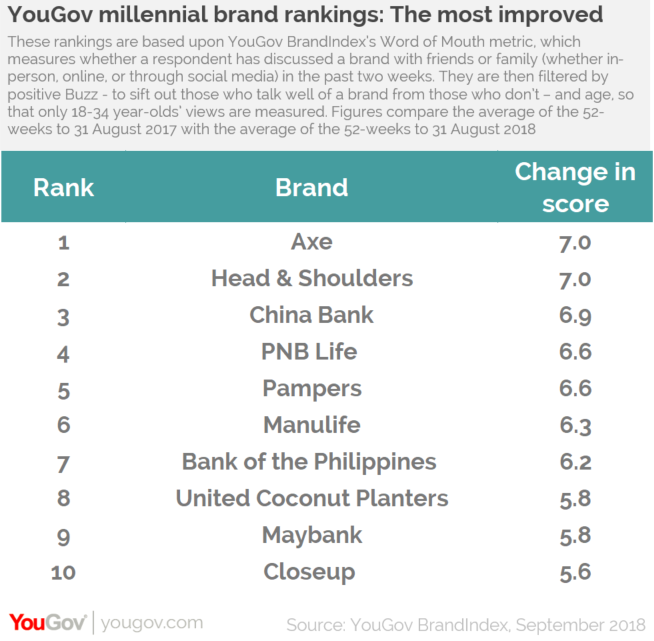 The rankings also show which brands have experienced the greatest uplift in the positive word of mouth over the past 12 months. Axe tops the improvers list with its score increasing by +7.0. It appears ahead of Head & Shoulders (+7.0), China Bank (+6.9) and PNB Life (+6.6).
YouGov's rankings are based upon YouGov BrandIndex's Word of Mouth metric, which measures whether a respondent has discussed a brand with friends or family (whether in-person, online, or through social media) in the past two weeks. They are then filtered by positive Buzz - to sift out those who talk well of a brand from those who don't – and age, so that only 18-34 year-olds' views are measured.